Australia: Workplace Strategy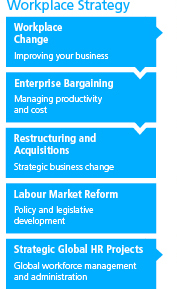 We bring a strategic dimension to our workplace advisory services and we seek to understand a client's commercial imperatives, risk profile, stakeholders and unique workplace challenges. By doing so, we are able to provide clients with multi-dimensional thinking which follows a deep understanding of their specific commercial needs.
Workplace Change: Improving your business
Any workplace change initiative is multi-dimensional and our legal advice acknowledges this. Clients can, as part of our service offering, be guided through a number of analytical tools to help identify issues and provide tailored solutions to them.
Enterprise Bargaining: Managing productivity and cost
The enterprise bargaining process can be a key strategic issue for an employer. Both the process and the outcome can significantly impact business operations, productivity and budgets. We work with our clients to:
identify the strategic issues;

understand and maximise employer leverage;

develop the negotiation strategy; and

assist with bargaining-related litigation.
Clients can, as part of our enterprise bargaining services, access our unique offering entailing:
an overview of the legal framework;

strategic workshops and training; and

negotiation preparation workshops and training.
Restructuring and Acquisitions: Strategic business change
The restructuring, acquisition or sale of a company—often a key strategic initiative—can have a significant impact on workforce productivity and employer/employee relationships. Our lawyers have assisted many organisations with the successful management of employment relations and health and safety through periods of structural change, including complex redundancy situations and managing transfer of business obligations under the Fair Work Act, 2009 (Cth) and workplace health and safety laws. We also advise on due diligence issues, the transfer of employment benefits and strategies to integrate the workforce.
As a result of our expertise in this area, we are frequently called upon by other firms to advise on labour and employment and workplace health and safety issues affecting their clients who are involved in commercial restructuring and acquisition transactions.
Labour Market Reform: Policy and legislative development
Clients are increasingly facing both opportunities and challenges as a result of changes in the labour market and the workplace. Australian businesses must adjust quickly to changing economic circumstances and evolving labour market legislation by changing their business models, workplace policies and procedures, or by making operational improvements in order to mitigate their exposure to risk.
Strategic Global HR Projects: Global workforce management and administration
In an increasingly globalised market, we work with clients to develop and administer projects and policies regarding remote working arrangements, performance management programs, international assignment/transfer structures, retention and remuneration arrangements including compensation, commission and bonus arrangements, non-compete/non-solicitation arrangements, and IP protection arrangements.
Click on the link to find out more about our Workplace Risk or our workplace day to day advisory services in Australia.
For More Information
Providing updates and insights on workplace issues and employment law from Seyfarth Shaw Australia's team of Australian and international experts.