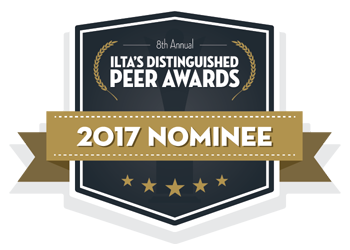 Seyfarth Shaw has again been selected as a finalist for the International Legal Technology Association's (ILTA) prestigious Innovative Law Firm of the Year award. ILTA shortlisted Seyfarth for advances made by its use of robotics software with SeyfarthLean Consulting:
Supported, funded and driven by the direction of Seyfarth Shaw LLP, SeyfarthLean Consulting has invested in robotics as an integral piece of its technology systems. SeyfarthLean Consulting formed a partnership with Blue Prism to deploy robotic process automation (RPA) software and created an internal center of excellence to drive best practices around a growing pipeline of robotic process automation projects in the firm. RPA connects data stored in multiple systems to rapidly complete repetitive tasks and accelerate defined processes. Seyfarth and SeyfarthLean Consulting developed the addition of a chatbot, Ask Lee, on its SeyfarthLink client collaboration platform to answer support questions faster and more efficiently than support team members could. Ask Lee will be expanded to cover other parts of the firm to drive adoption of this easy-to-use support interface. This two-pronged approach to implementing robotics is driving efficiency, emphasizing our commitment to helping clients solve their most complex business issues.
The ILTA organization awards recognize team excellence within ILTA member law firms and law departments. The Innovative Law Firm of the Year nominees have delivered great business value and transformational impact through innovations and implementations within their organization. To learn more, visit here: http://awards.iltanet.org/awards/organization
To learn more about Seyfarth's use of robotics software, please see a LinkedIn article here from Seyfarth's chair emeritus Stephen Poor.