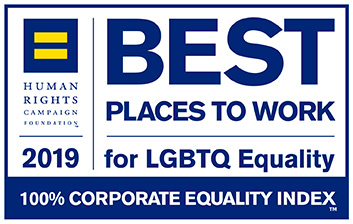 Seyfarth Shaw LLP announced today that, for the 11th consecutive year, the firm earned a perfect score of 100 in the annual Human Rights Campaign Foundation's Corporate Equality Index (CEI) and was named a "Best Place to Work for LGBTQ Equality." CEI is a national benchmarking survey and report on corporate policies and practices related to LGBTQ workplace equality, administered by the Human Rights Campaign Foundation.
Seyfarth's chair and managing partner Peter Miller remarked, "The firm is extremely proud to be named a 'Best Place to Work for LGBTQ Equality'. For over a decade now, Seyfarth has been honored with this distinction, a direct reflection of the diverse and inclusive workplace culture we have established for all of our attorneys and professional staff."
"As the firm continues to promote, develop and adapt diversity initiatives, this recognition is a significant acknowledgement of our LGBTQ affinity group's efforts to keep Seyfarth a welcoming workplace to all," said Sam Schwartz-Fenwick, chair of Seyfarth's LGBTQ affinity group.
The 2019 CEI evaluates LGBTQ-related policies and practices including non-discrimination workplace protections, domestic partner benefits, transgender-inclusive health care benefits, competency programs, and public engagement with the LGBTQ community. Seyfarth's efforts in satisfying all of the CEI's criteria results in a 100 percent ranking and the designation as a "Best Place to Work for LGBTQ Equality."
The Human Rights Campaign Foundation (HRC) is the educational arm of America's largest civil rights organization working to achieve equality for lesbian, gay, bisexual transgender and queer people. HRC envisions a world where LGBTQ people are embraced as full members of society at home, at work and in every community. For more information on the 2019 Corporate Equality Index, visit here.
About Seyfarth Shaw LLP
Seyfarth Shaw has more than 850 attorneys in 15 offices providing a broad range of legal services in the areas of labor and employment, employee benefits, litigation, corporate and real estate. Seyfarth's clients include over 300 of the Fortune 500 companies and reflect virtually every industry and segment of the economy. A recognized leader in delivering value and innovation for legal services, Seyfarth has earned numerous accolades from a variety of highly respected industry associations, consulting firms and media.