Australia: Transactional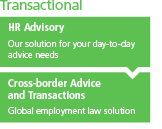 Our transactional services range from day-to-day advice on employment and safety issues within any one jurisdiction to international employment-related transactions including cross-border initiatives with a labour, employment or safety component.
HR Advisory: Our solution for day-to-day advice needs
We provide quick and efficient advisory services to help clients address day-to-day employment and workplace health and safety needs and challenges. Whether a client requires advice on a performance management issue, a bullying complaint, sexual harassment, a policy change, entitlements, obligations, or dealing with a safety issue that has arisen on site, we are able to provide the most appropriate advice and draw upon the strengths of our entire legal team to address the issue.
In addition to our employment and workplace advisory capabilities, we offer dedicated drafting services for employment contracts, protection of business clauses, and workplace policy development.
Cross-Border Advice & Transactions: our global employment law solution
Seyfarth has a dedicated and unique team of international employment lawyers performing international and multi-jurisdictional work on a global basis.
Our team is the largest of its type globally and our practice is acknowledged as a world leader. Our international labour and employment practice deals exclusively with employment law, and health and safety law issues of any type and complexity, no matter how many countries the matter involves. All lawyers in our international practice have extensive experience acting for large multi-national companies across a wide range of industries, providing high quality advice in a timely way to achieve a commercially-driven outcome. We assist clients with complex multi-jurisdictional employment law and health and safety law projects, including:
Employment Law Advice: Day-to-day and one-off issues as well as cross-border workforce issues, and

International Transactional Assistance: Mergers and acquisitions, spin-offs and joint ventures, including HR due diligence, international employment structures, advice regarding union and/or works council consultation, business transfer laws and post-transaction workforce integration issues.
The workplace can be a high risk environment and in Australia, it is certainly a highly regulated environment. Seyfarth Shaw aims to view risk through the eyes of our clients balancing risk with commercial objectives.
Click on the link to find out more about our Workplace Strategy, or our Workplace Risk services in Australia.
For More Information
Providing updates and insights on workplace issues and employment law from Seyfarth Shaw Australia's team of Australian and international experts.