Organizational Strategy and Analytics
Seyfarth's Organizational Strategy and Analytics Team: Empowering Employers with Data-Driven Results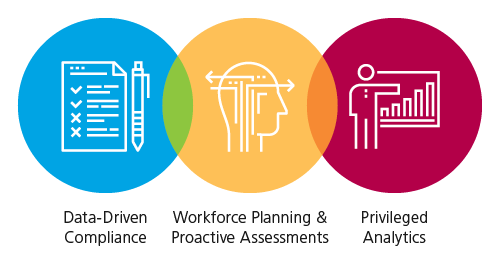 Building a workforce for the future requires data-driven insights to spot trends, identify and mitigate risks, and create programs that attract and retain the best talent for your organization. At the same time, increasingly aggressive legal and regulatory developments are placing new demands on employer practices, policies, compliance and reporting requirements.
While some organizations are already seizing the strategic potential of data to achieve their workforce objectives and compliance requirements, others are just getting started with the foundational steps of gathering, processing and analyzing employee data for baseline insights. No matter where your organization is on this continuum, Seyfarth's Organizational Strategy and Analytics (OSA) team will meet you where you are and help you achieve your goals with focused, effective, data-driven solutions.
Who We Are
The OSA team is an industry-leading group of lawyers, economists, analysts and technologists who use powerful analytical approaches for people analytics, workforce strategy, compliance, and litigation. Our multi-disciplinary team brings a wealth of experience in developing the data analyses, reporting, and metrics that employers need today. We address virtually any workplace issue with a combination of compliance and legal expertise to define and design effective analytics.
This powerful combination of legal acumen and data analytics capabilities allows us to provide strategic legal advice and create groundbreaking solutions that yield both legal and business impact.
Our Services
Diversity and Inclusion Counseling: In the critical area of workplace diversity and inclusion, we provide employers with the analytical framework necessary to achieve their diversity program objectives. We have deep experience providing legal counsel and advice on diversity best practices, globally as well as in the United States. Our metrics and analyses, which may be protected under attorney-client privilege, assist in identifying gap areas that can be addressed while tracking progress toward meaningful solutions.
Hiring, Testing & Selection: As the global economy continues to evolve, U.S. employers face ever-increasing challenges. Federal agencies such as the EEOC are staffed and empowered to impose more challenges on selection practices than ever before, and companies operating in multiple jurisdictions must comply not only with federal law, but with state and local mandates as well. To help them navigate these headwinds, employers look to Seyfarth for innovative compliance solutions and best hiring processes. The OSA group supports employers with the data analyses, reporting and metrics to build innovative compliance solutions and best hiring practices as they strive to become the "employer of choice" in their industries.
Litigation Support: The OSA group supports single and complex litigation and pre-litigation matters that touch on data-related issues, such as pay disputes; wage-hour, promotion, hiring and termination claims; and post-restructuring allegations. We provide strategic counsel to ensure a cohesive litigation strategy that is supported by data.
OFCCP Compliance: Seyfarth Shaw has been at the forefront of representing federal contractors in matters involving affirmative action compliance since the origination of these legal requirements. We advise employers on best practices for complying with federal and state affirmative action requirements, including helping contractors manage OFCCP and other agency audits and the litigation which ensues from enforcement actions. Seyfarth also guides contractors in using their compliance tools to drive strategic management initiatives such as diversity and inclusion programs and pay equity reviews.
Pay Equity Analyses: Seyfarth has more than 20 years of experience advising employers in the ever-changing legal landscape involving pay issues. Seyfarth's Pay Equity Group (PEG) counsels employers on best practices domestically and internationally as employers navigate the myriad laws and enforcement guidance that are in place today. We consistently provide thought leadership at the federal, state and agency level on all issues related to pay equity. Seyfarth's attorneys are skilled at leading attorney-client privileged proactive pay analyses and crafting appropriate remedial strategies designed to mitigate future risk. We also have deep experience defending employers in high-stakes pay equity class actions, collective actions or single-plaintiff litigation.
Workforce Restructuring and Reductions-in-Force: We help you proactively reconfigure your workforce to better meet your operational and performance goals, manage costs, and encourage growth while facing today's complex business challenges. We provide strategic planning during all stages of a restructuring plan. This includes developing strategies for minimizing or avoiding potential liability, controlling employment or benefits-related costs, and meeting legal or other business obligations that may be triggered.
The Seyfarth Advantage
Attorney-client privilege and protocols: Working with OSA optimizes the confidentiality of sensitive analyses and reports through our use of established protocols that support the attorney-client privilege. We will advise you on the various strategic approaches for internal or external communications with an eye towards minimizing risk.
Multi-disciplinary approach: Our team of lawyers, analysts, statisticians and labor economists work together to staff your project efficiently while producing optimal results. Our approach provides a cohesive client experience, streamlined communications and deeper understanding of your workplace reporting and analyses needs.
50 State Pay Equity Survey
We are pleased to offer our free 50 State Pay Equity Desktop Reference: What Employers Need to Know about Pay Equity Laws.
We also offer a comprehensive 50 state survey covering: citations to the current statute; citations to pending amendments/bills; protected status; comparison group; whether location can be considered; burden of proof; affirmative defenses; statute of limitations; damages; length of back pay; remediation; and comments or other notable differences from federal law. For additional information on this extensive survey, please email payequity@seyfarth.com.