In-Person Breakfast Briefing
9th Annual M&A Preview: A Middle-Market Perspective


Please join us to hear from Monroe Capital along with a panel of other industry leaders at Seyfarth Shaw, Mesirow and The PrivateBank on the state of middle-market M&A in Chicago—and beyond.



"The Current Market for Middle-Market Deal Finance"


Featuring Keynote Speaker Ted Koenig, Monroe Capital CEO and President
What is hot and what is not in deal terms?
What industries are in favor and what are not in favor?
What are PE firms doing to win more deals?
The M&A marketplace, including auctions, valuations, cross-border transactions and private equity versus strategic deals
Current state of commercial banking and loan terms and views on lending in M&A transactions
Legal developments and current trends that will affect your deals
If you are interested in attending, please contact Maria Raynes-Pelino mraynespelino@seyfarth.com
When & Where
Date:
Tuesday, November 15, 2016

Location:
Seyfarth Shaw LLP
131 South Dearborn Street
Suite 2400
Chicago, Illinois 60603

Agenda:
Breakfast & Registration:
7:30 a.m. – 8:00 a.m.

Program:
8:00 a.m. – 10:00 a.m.
Keynote Speaker
Theodore L. Koenig
President & Chief Executive Officer
Monroe Capital LLC
Featured Panelists
Jeffrey A. Golman
Vice Chairman, Head of Investment Banking
Mesirow Financial
Bruce S. Lubin
Executive Managing Director and President of Illinois Commercial Banking
The PrivateBank
Partner
Seyfarth Shaw LLP

Tyler VanLonkhuyzen
Partner
Seyfarth Shaw LLP
Suzanne L. Saxman
Partner
Seyfarth Shaw LLP
---
Middle-Market M&A SurveyBook
Data Suggests Steady Seller-Favorable Indemnity Environment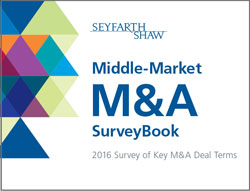 The data analyzed in Seyfarth's most recent annual Survey suggests that the M&A environment in 2015 continued to have a favorable impact on key deal terms for sellers. Based on a sampling of deals from the first quarter of 2016, we have seen these seller favorable trends carry over into 2016.

The 2015 data revealed an increase in the use of escrow periods of 12 months or less, a decrease in median escrow amounts and a higher percentage of deals employing an indemnity cap of 10% or less, in each case, as compared to the two prior years.

Buyers continue to attempt to differentiate themselves and present a more compelling bid for acquisition targets or their assets by taking on more risk in their acquisition agreements and offering more aggressive contractual terms to sellers. Buyers are also increasingly purchasing representation and warranty insurance in an effort to make their acquisition proposal even more attractive to a seller by limiting potential post-closing liability of the seller.

While the Survey summarizes a variety of deal terms and trends in middle-market M&A transactions, below are several key takeaways:
Indemnity Escrow Amounts Are Shrinking

- The median indemnity escrow amount in 2015 was 6% of the purchase price compared to 7.41% in 2014 and 8.81% in 2013. In 2015, approximately 76% of the deals surveyed had an indemnity escrow amount of less than 10% of the purchase price compared to 59% in 2014 and 48% in 2013.

Escrow Periods of 12 Months or Less Continue to Increase

- The percentage of deals with an indemnity escrow period of 12 months or less increased to over 46% in 2015 compared to approximately 40% in 2014 and 34% in 2013.

Most Transactions Continue to Have Representation and Warranty Survival Periods Between 12 to 18 Months

- Approximately 80% of deals surveyed had survival periods for general representations and warranties from 12 to 18 months, representing a slight increase when compared to 78% in 2014.

Median Indemnity Cap Has Remained Unchanged Since 2013

- The median indemnity cap remained steady in 2015 at 10% as compared to prior years.
Click below to view the complete Survey.
Will key deal term trends in private target M&A deals continue through the end of 2016? The 2017 M&A SurveyBook will be released Q1 2017!