Safety, Aviation/Transportation & Environmental Whistleblower Team
We have a long track record of successfully handling all aspects of sensitive investigations and defending challenging litigation before the DOL and federal courts in whistleblower matters involving safety and environmental issues, particularly in aviation and other sectors of the transportation industry.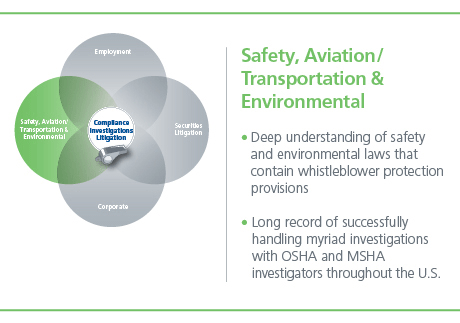 The wealth of substantive experience we bring to bear with respect to the applicable statutes and regulations sets us apart from our competitors. Indeed, our decades of experience dealing with the relevant statutes—such as the Occupational Safety Health Act (OSHA), Surface Transportation Assistance Act (STAA), AIR 21, Mine Safety and Health Administration (MSHA), and a range of environmental laws—enables us to rapidly diagnose issues that arise in determining whether a plaintiff engaged in protected activity. Our mastery of these statutes also facilitates our ability to communicate effectively and persuasively with OSHA and MSHA investigators. As a testament to our capabilities, we have achieved many early dismissals of investigations and have prevailed in litigation in a range of cases around the country and before a variety of tribunals.