Webinar Recording
Feb 24, 2021
Webinar Recording: Beyond Yoga: Connecting Mind & Body
Presented by The Belonging Project
A relaxing 75 minute yoga class designed specifically for you by a lawyer and taught by a lawyer. This yoga class will not be a strenuous workout or about how far you can stretch. The class will focus on going beyond the forms of yoga and will be different than what you might have seen or tried before. You will learn to run prana (natural energy medicine) in the body, which helps clear emotional blockages, quiets the habitual thinking mind and heals the body. We will do several yoga sequences and breathing exercises that go deep into the body, so you can connect with your body, mind and soul on a much deeper level. All levels are welcome. No previous yoga experience is needed. Here's the equipment that participants will need for the class: 1 yoga mat (required); 1 yoga strap (or belt from a robe or long belt); 2 or more yoga blocks to use for balance and to sit on (or textbooks); a wall close by; and room-temperature water (not cold).
Speaker
Aman Costigan, Founder of and Yoga Teacher at Beyond Yoga for Lawyers & Partner at Shores Jardine LLP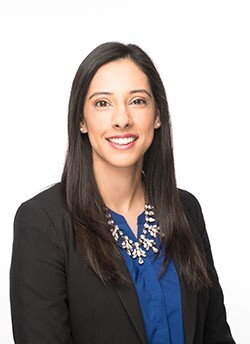 Aman is the founder and yoga teacher at Beyond Yoga for Lawyers. Beyond Yoga for Lawyers is a yoga program she's created specifically for lawyers by a lawyer. She is passionate about sharing a yoga practice she was drawn to 8 years ago and has been committed to ever since. She believes this type of yoga practice has changed her life and allowed her to stay as a lawyer in private practice for as long as she has. It has given her coping mechanisms that allow her to be less angry and less reactive in daily life. She's a better listener because of it and has tools and techniques that have helped her through situations that have caused her to feel stressed and anxious that she wants to share.
Aman is passionate about sharing the benefits of this yoga practice with lawyers. She believes lawyers are a unique group of people who can understand each other and relate to the stressors that come with being a lawyer in ways that non-lawyers cannot. She wants to help other lawyers apply the techniques that she's learned in this yoga practice to their legal careers. She believes this is her gift and that she's uniquely positioned to provide insight into managing stress through yoga and breathing techniques to other lawyers. You can find out more about Beyond Yoga for Lawyers at their website https://beyondyogaforlawyers.com.
Aman is also a Partner at Shores Jardine LLP in Canada, where she practices primarily in the area of professional regulation. You can follow Aman on IG @beyondyoga_for_lawyers.