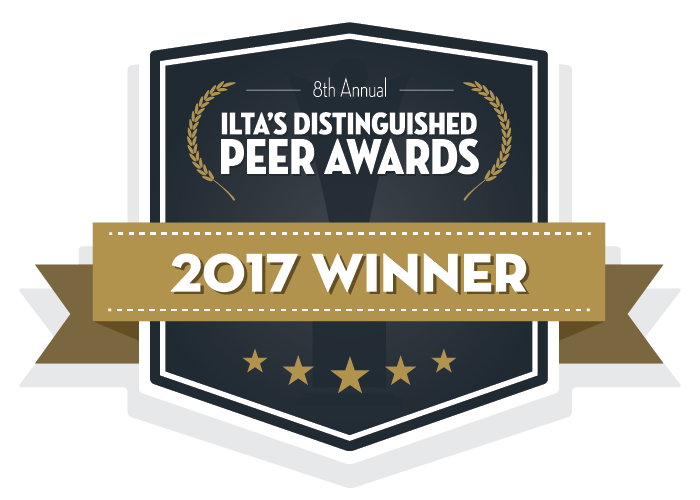 CHICAGO (August 16, 2017) -- Seyfarth Shaw LLP has been honored with the 2017 Innovative Law Firm of the Year Award, presented Tuesday evening by the International Legal Technology Association at its annual awards gala.
Among the industry's top honors, the award recognizes the law firm that delivered the greatest business value and transformational impact through innovations within their organization. This is the second time in five years that Seyfarth has been named ILTA's Innovative Law Firm of the Year, previously earning the award in 2013.
"We are proud to be at the forefront of technology that enhances what our lawyers do best: counsel and serve our clients," said Pete Miller, Seyfarth's chair and managing partner.
Seyfarth won for two groundbreaking advances in the use of robotics software with SeyfarthLean Consulting:
Deployment of robotic process automation (RPA) software in the legal industry for the first time, while creating a Robotics Center of Excellence to drive best practices around a growing pipeline of RPA projects in the firm;

Development of the "Ask Lee" chatbot for the firm's SeyfarthLink client collaboration platform, which can answer support questions around the clock, and do so faster and more efficiently.

To learn more about Seyfarth's Robotics Center of Excellence, visit the animated video here.
About Seyfarth Shaw LLP
Seyfarth Shaw has more than 850 attorneys in 15 offices providing a broad range of legal services in the areas of labor and employment, employee benefits, litigation, corporate and real estate. Seyfarth's clients include over 300 of the Fortune 500 companies and reflect virtually every industry and segment of the economy. A recognized leader in delivering value and innovation for legal services, Seyfarth has earned numerous accolades from a variety of highly respected industry associations, consulting firms and media.