Delivering on high impact advisory, high stakes litigation for leading employers through deep know-how and experience in employment, workplace relations and workplace health and safety law.
We support our clients to create high performing workplaces, making them efficient and safer in the long term.
Seyfarth is Australia's only dedicated labour, employment and safety provider servicing leading employers as part of a global firm. Our partners are widely regarded as market leaders in their field. Their considerable experience, when combined with our innovative client service delivery model, has established Seyfarth as a premier labour, employment and safety practice in Australia. We draw upon the collective wisdom of all of the firm's partners for the benefit of our clients, and we can align experience with client need irrespective of location.
To us, working in collaboration with our clients means seeing their problem or opportunity as our own. When needed to help make a business critical decision, we don't fence sit. We say what we think and help make a call.
As a result, we have been profiled in the leading international rankings of the legal industry:
Seyfarth Shaw LLP has assembled 'the most progressive and strategic collection of employment lawyers in Australia', who 'take on the big cases and get the results'

—

The Legal 500

 

 "They take time to ensure they understand the business and the challenges we face."

—

 Chambers
"Outstanding. Turnaround and service levels are exceptional, the advice is practical and commercial and demonstrates their deep knowledge of our business, and good depth of team." 

—

Chambers
Tier 1 firm for Employment Law and Workplace Health & Safety in Australia 

—

Doyles
OUR SERVICES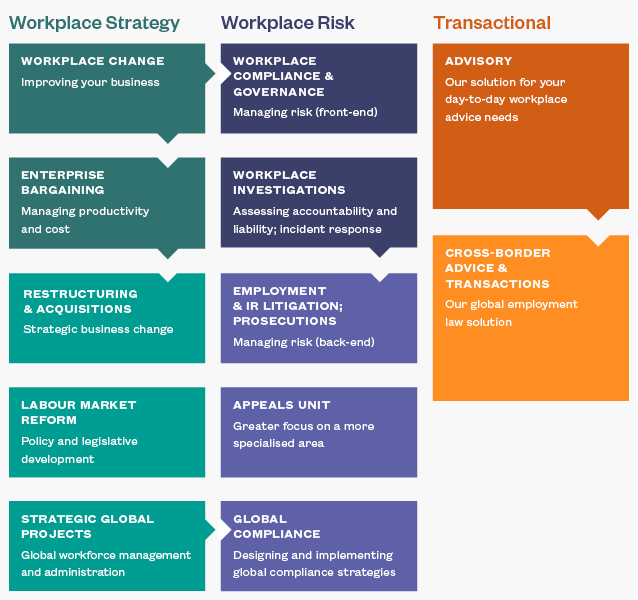 Image description: Seyfarth Australia offers clients three types of services which are described in full below. 
Workplace Strategy. Helping You to Achieve Your Strategic Goals
Any workplace change initiative is multi-dimensional and our legal advice acknowledges this. We seek to understand a client's commercial imperatives, risk profile, stakeholders and unique workplace challenges. By doing so, we are able to provide clients with multi-dimensional thinking which follows a deep understanding of their specific commercial needs.
Clients can, as part of our service offering, be guided through a number of analytical tools to help identify issues and provide tailored solutions to them.
Workplace Risk. Helping You to Reduce Risk and Promote Workplace Health and Safety
We advise leading employers on compliance and governance to help manage front-end risk. At the back-end, we assess accountability and liability including incident response. Another large component of workplace risk is managing employment and industrial litigation, which has the potential to cause reputational damage. A bargaining strategy must also acknowledge risk. Health and safety is a key workplace risk for organisations.  Our team are recognised as leaders in the specialist field of health and safety law and have a dedicated 24-hour number available to clients for immediate response.
Workplace related litigation has unique features which impact the cost-benefit equation. Our team is committed to being commercially minded with the client's end always in mind.
Our practitioners are recognised for their innovative work in this area and for leading the process of establishing the boundaries of the Australian regulatory framework.
Transactional Services. Day-to-Day Support When You Need It
We provide quick and efficient advisory services to help clients address day-to-day employment and workplace health and safety needs and challenges. Whether a client requires advice on a performance management issue, a bullying complaint, sexual harassment, a policy change, entitlements, obligations, or dealing with a safety issue that has arisen on site, we are able to provide the most appropriate advice and draw upon the strengths of our entire legal team to address the issue.
Seyfarth has a dedicated and unique team of international employment lawyers performing international and multi-jurisdictional work on a global basis.
Our team is the largest of its type globally and our practice is acknowledged as a world leader. Our international labour and employment practice deals exclusively with employment law, and health and safety law issues of any type and complexity, no matter how many countries the matter involves.
THE SEYFARTH EXPERIENCE
Our unique client service delivery and matter management approach brings optimal value to employers. This approach allows our lawyers to focus on strategy and reduces the time and cost spent on process. In addition, our unique client collaboration capabilities enhance lawyer-client collaboration and provide clients with greater transparency of cost as well as improved matter oversight and management.