Seyfarth Benefits Consulting
Not only do Seyfarth's Employee Benefits & Executive Compensation Department attorneys and professional staff focus on complex employee benefit plan-related needs of our clients; we are also well-versed in handling common administrative benefit plan-related matters.
Our full-service Seyfarth Benefits Consulting offering is aimed at getting HR and employee benefit personnel out of the more routine day-to-day administrative benefits legal work and provide resources to manage these matters, including but not limited to:
Claims Administration
Compliance reporting, review, preparation and submission of annual reports (Form 5500s) and "top hat" plan filings for non-qualified plans, compilation and submission of delinquent filer voluntary compliance program (DFVCP) filings
Determination Letter Filings
HIPAA Privacy
Legal instrument and Levy Review
Nondiscrimination Testing
Qualified Domestic Relations Order (QDRO) Administration
Qualified Medical Child Support Order (QMCSO) Administration
Legal instrument and Levy Review
Special client administrative projects, such as internal procedural audits of existing administrative policies and practices, review of employee/participant communications related to administrative services, conduct, missing participant address and death searches, and training
Utilizing SeyfarthLean methodologies, we are able to offer many of these services for a flat fee.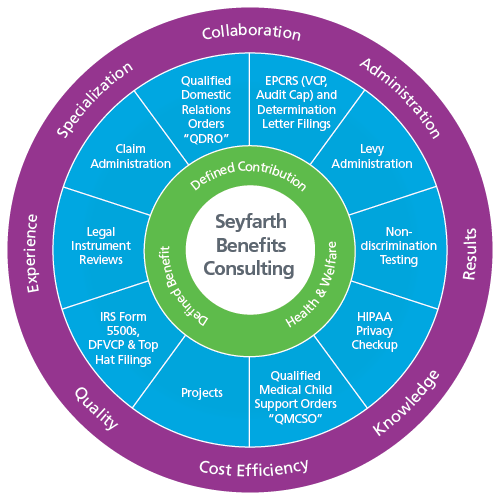 What We Are Providing
For Plan Sponsors
Collaboration with plan sponsors and their staff to provide an administrative solution to benefit matters so plan sponsors and their staff can focus on their core business

High-quality and personal representation with extensive knowledge and vast experience in employee benefits

Standardization and best practices to reduce costs

Team approach—work with plan sponsors, staff and third party administrators (side-by-side)

Conduct regularly scheduled status calls

Tailored services to meet plan sponsors needs

Variable Fee Structures

Fixed rate - predictable cost

Hourly rate/Blended rate

Negotiated project rate
For Plan Participants
Knowledge resource
Timely response
Toll-Free telephone support, if applicable
---
If you have any questions concerning our service offerings or need more information, please contact your Seyfarth Shaw LLP attorney or email EBAdminServices@seyfarth.com.