Rainmaking When We Can't Go Outside
Presented by The Belonging Project
Cost
Cost is free, but registration is required.
Wednesday, April 14, 2021
3:00 p.m. to 4:30 p.m. Eastern
2:00 p.m. to 3:30 p.m. Central
1:00 p.m. to 2:30 p.m. Mountain
12:00 p.m. to 1:30 p.m. Pacific
Join us for a Business Development Fireside chat with Perkins Coie Patent Litigation partner Dennis Hopkins and law firm diversity and professional development consultant Paula Edgar addressing business development strategies and principles from a practitioner's point of view and including best practices for developing or refining your business development plan. The conversation will cover topics including:
Developing Your Own Style
Setting Business Development goals
Pivoting in the Pandemic
Accountability Mechanism
Establishing Business development principles
Speakers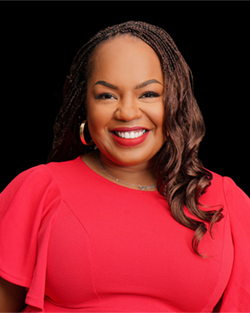 Paula T. Edgar, Attorney, CEO of PGE Consulting Group LLC

Paula Edgar is an attorney and CEO of PGE Consulting Group LLC, a strategy firm that provides diversity, equity, inclusion, belonging, and professional development solutions for organizational inclusion initiatives.

Paula is a highly sought after speaker and facilitator across industries. She conducts live and virtual facilitated workshops, delivers keynote speeches, and provides executive coaching. Paula develops customized diversity training on topics including unconscious/implicit bias, anti-racism, inclusive leadership, workplace sexual harassment, and EEO compliance. Paula's professional development expertise includes mentor/sponsor best practices, personal branding, networking, social media, business development, and career planning strategies.

Paula has written for and been featured in a wide array of publications including the New York Times, Bloomberg Law, Essence Magazine, Business Insider, and US News and World Report.

Paula is active in numerous organizations and social justice initiatives, including her current role as Treasurer and past President of the Metropolitan Black Bar Association (MBBA), New York State's largest Black bar association and serving as President of its charitable arm, Friends of the MBBA, Inc. She is a founding Board Member of The Black Big Law Pipeline, Inc. Additionally Paula is a 2015 Council of Urban Professionals (CUP) Fellow and a member of the CUP Alumni Board, a Trustee of the Ellis L. Phillips Foundation, a member of the Executive Committee of the Deerfield Academy Alumni Association, and has been nominated to serve on the New York City Bar Association's Board beginning in 2021.

Paula's professional experiences include serving as a founding partner of Inclusion Strategy Solutions LLC, inaugural Chief Diversity Officer at New York Law School, Associate Director of Career Services at Seton Hall University School of Law, and Executive Director of Practicing Attorneys for Law Students Program, Inc. (PALS). Additionally, Paula practiced employment and workplace discrimination law for the Law Enforcement Division of the New York City Commission on Human Rights.

Paula received her B.A. in Anthropology from California State University (Fullerton) and her J.D. from the City University of New York School of Law.

She has been recognized by The Network Journal Magazine as a "40 Under Forty" Achievement Awardee, a Ms. JD "Woman of Inspiration", and a "Rising Star'' by A Better Chance. She has also received the Distinguished Alumni Award from the Black Law Students Association at CUNY Law School and the Ruth Whitehead Whaley Service Award from the Association of Black Women Attorneys (ABWA).

Stay up to date with Paula at paulaedgar.com, Linkedin, and on Twitter (@PaulaEdgar)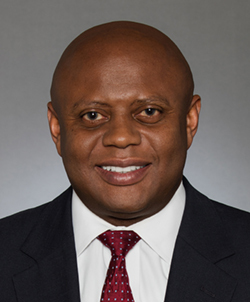 Dennis Hopkins, Partner at Perkins Coie

Dennis Hopkins is a partner in Perkins Coie's Intellectual Property practice. He focuses his practice on all aspects of intellectual property law, with an emphasis on patent, copyright and trade secret litigation. Dennis has significant experience in all phases of IP litigation, including mediations, trials and appeals. In addition, his practice includes counseling clients on issues relating to litigation strategies and intellectual property management. He is also experienced in brand and domain name protection. His IP experience also includes drafting and negotiating agreements and licenses, preparing written opinions of counsel, and providing general IP counseling to clients, including counseling on patent, copyright, trade secret, brand management and other trademark matters. Dennis is a present or former board member for multiple professional organizations, including the Lawyer's Committee on Civil Rights, the Metropolitan Black Bar Association, and Practicing Attorneys for Law Students (PALS). He graduated from the U.S. Military Academy at West Point with a degree in Physics and Nuclear Engineering, and received his J.D. from Rutgers School of Law.