Try This On For Size: Exploring Your Story Through Prompts
Presented by The Belonging Project
Cost
Cost is free, but registration is required.
Wednesday, March 10
3:00 p.m. to 4:30 p.m. Eastern
2:00 p.m. to 3:30 p.m. Central
1:00 p.m. to 2:30 p.m. Mountain
12:00 p.m. to 1:30 p.m. Pacific
About the Program
Do you have a story, but don't know how to move it forward? Need to get to know your characters more?

This 90-minute session will explore your story and characters through various quick-fire prompts such as POV, opposite character, sensory details, and more. Find what your story needs by exploring different aspects of it. Come ready to trust the process and be ready to write. You don't have to have a story in mind; instead, the rapid-fire prompts will help you start and move the story forward in new ways. In the end, you'll come away with a lot more knowledge about your story, and it will give you guidance on how to continue onward.
Speaker
Cyn Vargas, Author | StoryStudio Chicago Core Faculty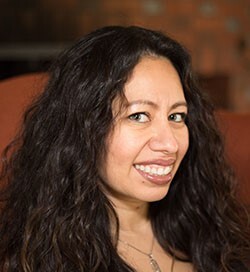 Cyn Vargas' short story collection, On The Way, received positive reviews from Shelf Awareness, Library Journal, Heavy Feather Review, Necessary Fiction, among others. Book accolades include: Book Scrolling's Best Short Story Collections of All Time, Newcity Lit's Top 5 Fiction Books by Chicago Authors, Chicago Book Review's Favorite Books of 2015, Bustle's 11 Short Story Collections Your Book Club Will Love, and Chicago Writers Association 2015 Book of the Year Honorable Mention.

Cyn's prose and essays have been widely published and she received a Top 25 Finalist and Honorable Mention in two of Glimmer Train's Short Story Award for New Writers Contests, is the recipient of the Guild Literary Complex Prose Award in Fiction, a company member of the award-winning storytelling organization 2nd story, on the Board of Directors for Hypertext Studio, twice selected as artist-in-residence at the Ragdale Foundation and is Core Faculty at StoryStudio Chicago. She earned an MFA in Creative Writing from Columbia College Chicago and is currently working on her first novel.