Webinar Recording
Mar 18, 2021
Webinar Recording: COVID-19 Vaccine: What Employers Should Expect
WEBINAR RECAP
The COVID-19 vaccine brings renewed optimism and hope, along with a host of questions and compliance issues for employers. During a 90-minute session, on Thursday, March 18, 2021, attorneys from Seyfarth's Labor & Employment and International Employment Law practices provided an overview of what employers should expect as the vaccine becomes more widely available both in the US and on a global scale.
The main session was divided into three parts:
In Part I , our US-based attorneys discussed the impact of the COVID-19 vaccine in the US and how employers should plan for challenges associated with vaccine rollout.
In Part II, our International Employment Law attorneys profiled the different legal and cultural environment outside the US and how employers should plan for challenges associated with vaccine rollout.
In Part III, Karla Grossenbacher (US), Tessa Cranfield (London), and Paul Cutrone (Sydney) came together for a rapid-fire Q&A session to preview the differences between US and non-US approaches to vaccination, and whether they can be reconciled. 
POLLING RESULTS
To kick off the webinar, attendees were invited to provide information on their companies' COVID-19 vaccination plans.
In an overwhelming majority, 73% of respondents plan to encourage their employees to get the COVID-19 vaccine. 20% were not sure of their plans at the time of the poll, and 3% plan to mandate the vaccine.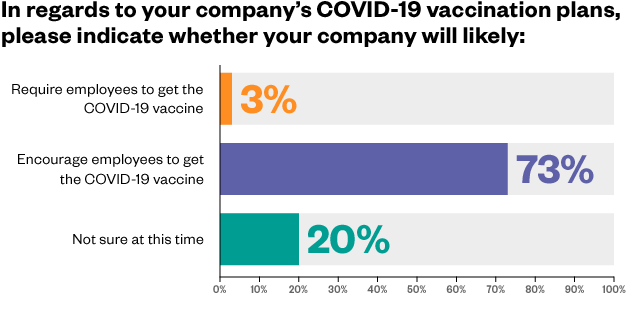 KEEP THE CONVERSATION GOING
To better tailor future vaccine-related presentations and content, we encourage you to take our brief survey to indicate your interests:
COVID-19 Vaccine: What Employers Should Expect – Post-Webinar Survey
WEBINAR RECORDING
Watch the session recording here:
This recording is eligible for CLE credit in CA, IL, NY, and NJ. Credit is pending in TX.  All other jurisdictions will be applied for as requested, but please note that not all states allow for distance learning so some states will be ineligible. To request CLE credit, fill out this form and return it to CLE@seyfarth.com.  If you have questions about jurisdictions, please email CLE@seyfarth.com. CLE credit for this recording expires on 3/17/2022.