Legal Update
Mar 17, 2020
COVID-19 Employer Flash Survey Results
Sign up for our Coronavirus roundup email . 
Visit our Coronavirus resource page .
On Thursday, March 12, Seyfarth issued a flash survey to our clients to get a pulse on employer reactions and benchmark their responses to the COVID-19 crisis. The questions covered a broad range of employer issues raised by the pandemic, from planned changes to leave and work-from-home policies, to handling sick employees and taking employee temperatures. 
We received more than 550 responses between March 12 and 16. Our respondents represented every imaginable industry, and we drew responses somewhat evenly from each region throughout the United States, with nearly 60% of respondents answering on behalf of employers with 500 or more employees.  
During these difficult and fast-moving times where every day holds unprecedented, wide-scale actions that demand immediate response from employers, many of the early answers likely would be different today. Even so, our survey serves as a brief snapshot in time that points to interesting insights and trends. 
Perhaps most importantly, survey respondents indicated they were clamoring for guidance, including information on federal, state, and local legislative updates; policy and benefits guidance; crisis communication support; and benchmarking. To that end, our COVID-19 Task Force has been tracking the emerging pandemic since late last year, and produces real-time, real-world guidance for employers through our COVID-19 Resource Center. We will continue to take the pulse of our clients in coming days and weeks, and report back on further developments. 
Survey highlights:
As of survey closure on Monday, March 16, 19 respondents indicated that a US employee in their organization had tested positive for COVID-19, which in most cases resulted in an extended closure.
Nearly 85% of responding companies were actively encouraging employees to work from home in some or all parts of the country, and more than 65% were taking steps to create an ability for employees to be able to work from home who do not normally do so.   
Nearly 70% of respondents were continuing to require or newly requiring medical sign-offs for return to work, despite government concerns about overtaxing already busy medical offices with such authorizations.    
While many employers were providing leave or quarantining employees, only about 40% were providing regular salary continuation, and 28% were providing unpaid leave or something less than regular wages.  
Only about 14% of respondents indicated that they were providing additional benefits, but the results included some creative options such as: leave donation, additional sick leave, tolerance of negative PTO balances, commuter or parking benefits to keep employees off public transportation, and free testing.
While the relevance of precise travel history fades with each day of the crisis, as of Friday 90% of respondents were requiring a 14-day quarantine of employees who had indicated travel in China or other Level 3 countries.  
Interestingly, nearly 40% of respondents were requiring a quarantine for employees who indicated they had been on a cruise, and approximately 20% were starting to require quarantines for employees based on travel to particular hot-spots around the United States.   
About 10% of respondents were starting to take employee temperatures for some or all positions.  
Respondents were evenly split on allowing employees to wear N-95 respirators at work, with 30% answering yes, 30% answering no, and 30% not having given it any thought.  
SURVEY CHARTS AND ANALYSIS
This survey is not legal advice and the questions and answers should not be interpreted as recommendations or imply a particular course of action or legal strategy.
ON POLICIES AND BENEFITS (Question 1)
As early as March 12, 73% of respondents were already planning to evaluate or change personnel policies, benefits, or safety rules in response to COVID-19. 18% were considering it, and 9% had not made changes. 
ON WORKING FROM HOME (Questions 2-3)
 36% of respondents had already actively encouraged employees capable of working from home to do so. 48% were encouraging this only in hotspots or on a case-by-case basis. The remaining 16% were not encouraging it.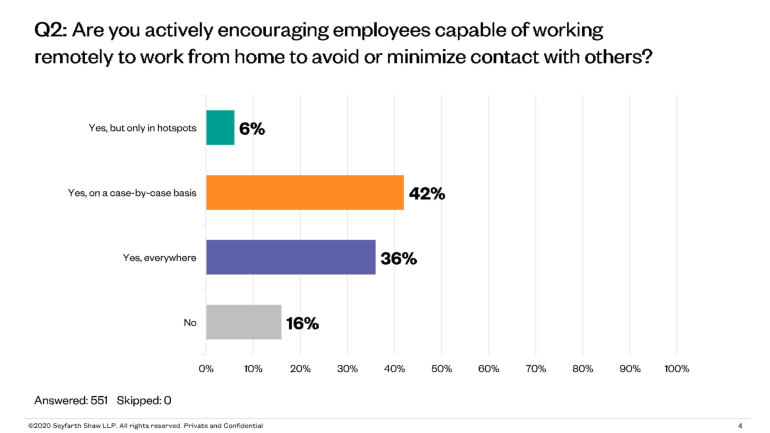 67% of respondents had taken proactive steps to expand the ability of their employees to work from home who didn't already do so. The remainder were not or reported it was impractical or impossible.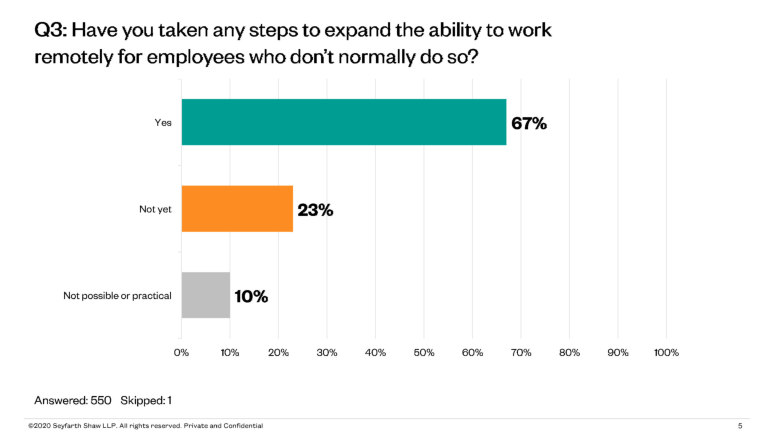 ON LEAVE (Questions 4-6)
73% of respondents were providing paid or unpaid leave to employees in quarantine due to COVID-19. Almost 20% were unsure of the legal requirement or if it was at all practical or possible. The remainder were not providing leave.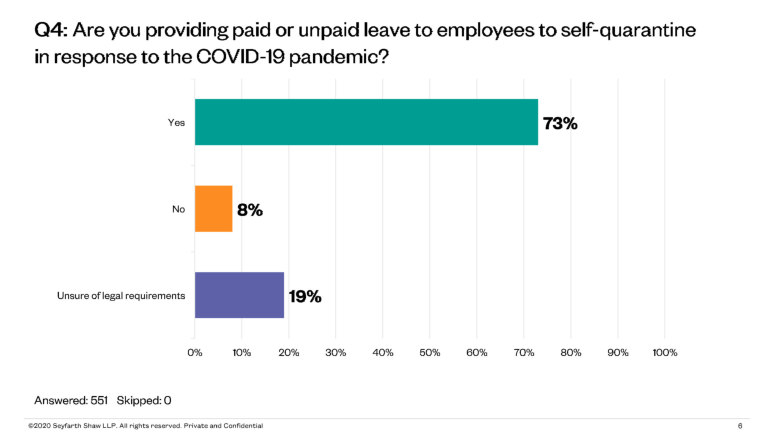 48% of respondents were planning to provide leave to employees to provide child care where schools or child care centers were closed. 32% were unsure of the legal requirements or if it was at all practical or possible. The remainder were not providing leave under these circumstances.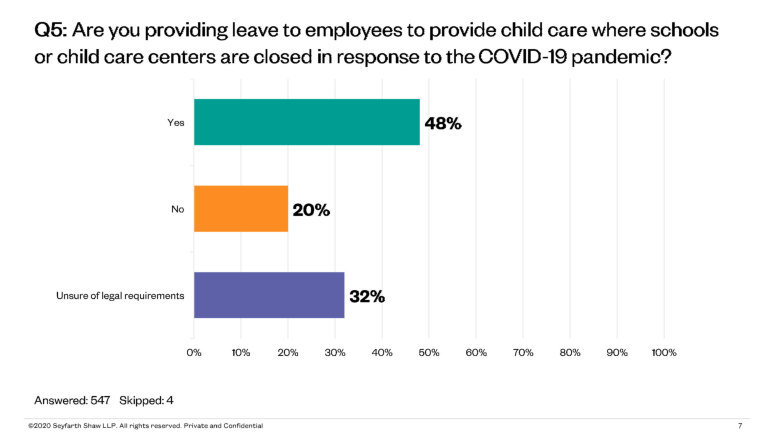 As a new policy, 22% of respondents were planning to require a doctor's note when someone has been out as a result of COVID-19. 40% reported this is already standard operating procedure. The remainder selected "no" or "not applicable."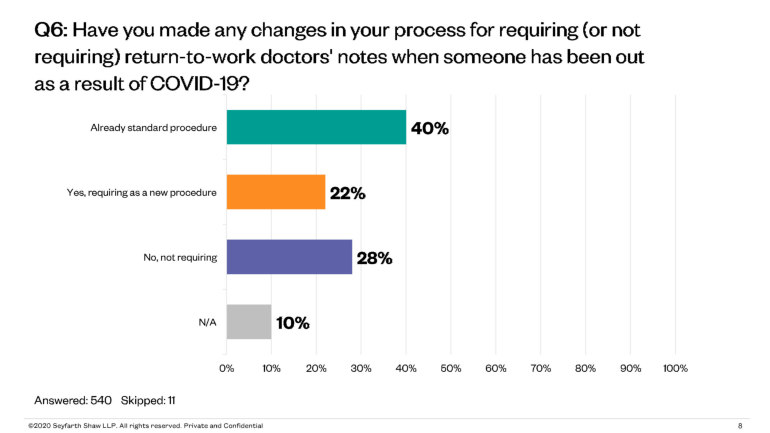 ON WAGES AND BENEFITS (Questions 7-8)
41% of those surveyed are paying wages as a result of COVID-19 work stoppages or quarantines. 27% are not. The remainder hadn't considered it or were unsure of legal requirements.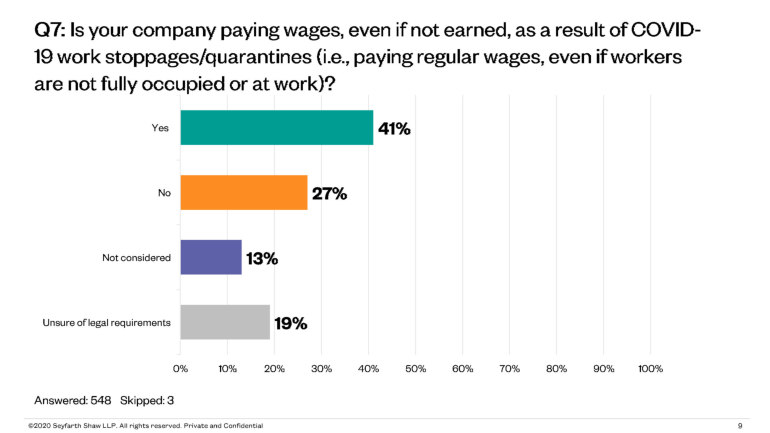 Nearly 40% of respondents were not planning to offer extra benefits to those impacted by work slowing, quarantines or stoppages. 48% said they had not considered or were unsure of legal requirements. 12% said they were offering extra benefits, including: 

Supplemental leave policy
Donation of leave from other employees
Increased sick days
Paid administrative time off
Fully-paid self-quarantine if returning from a CDC Travel Advisory Country
Alternate work schedules
Paid parking and meals
Borrowing sick and vacation days
Firm laptops
Subsidize COVID-19 testing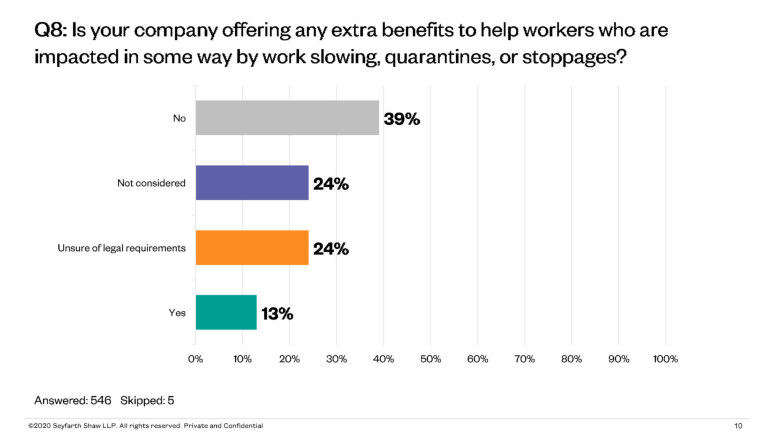 ON WORKPLACE HEALTH AND SAFETY (Questions 9-13)
30% reported allowing employees to wear dust masks or N-95 masks at work, pointing to the need for a clearly defined respirator policy.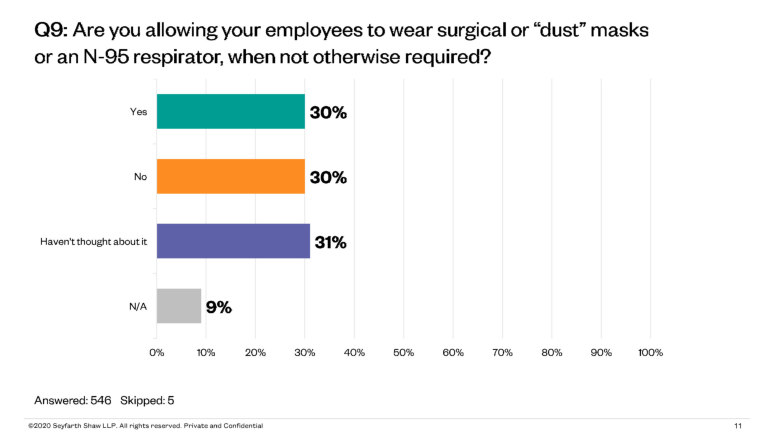 3% of respondents reported having an employee test positive for COVID-19. Of those respondents:

50% closed for an extended period
25% closed for a day or two for cleaning
25% required anonymous disclosure and encouraged of self-quarantine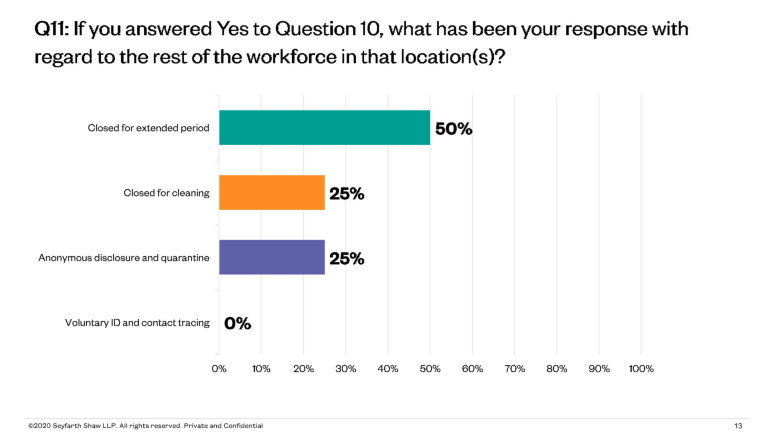 Respondents reported requiring a period of quarantine for persons who in the last 14 days:

90% required it for those who traveled to a Level 3 country
69% required it for those who traveled to a Level 2 country
40% required it for those who had been on a cruise
24% required it for those who had been to a specific US area with known community spread
17% required it for those who has been to a US state or county that has declared a state of emergency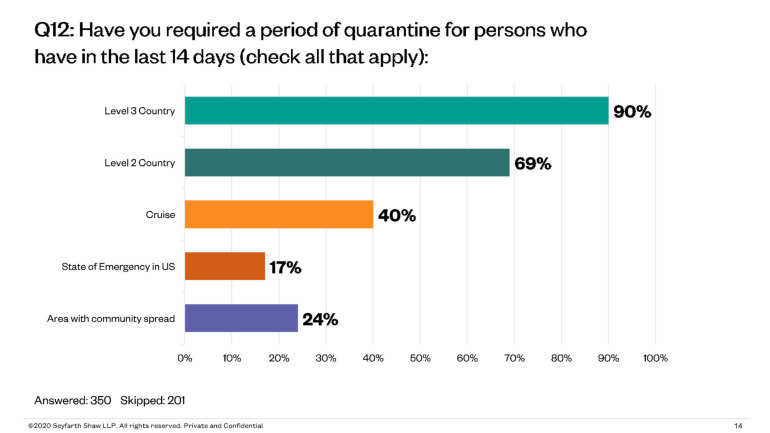 When asked if employers were planning to take employee temperatures, 12% said yes in general and for specific types of jobs.